What's The Connection Between Dental Health And Your Heart?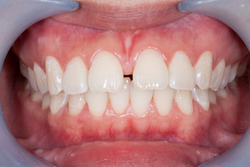 In the past, no one was concerned that monitoring your dental health would have consequences for the rest of your body. However, researchers have increasingly found that your body is connected to your dental health. In many cases, how well your teeth are doing is directly connected with how your heart is doing. Here is more information about the link between dental health and heart disease.


Your Heart

Your heart is truly a work of art. The heart is one of the most productive muscles in the body. It is constantly moving to push oxygenated blood out to your blood vessels, keeping your organs alive. Without it, you cannot survive. That's why it is so important to take care of your heart.


Heart Disease

Heart disease is the leading killer of both men and women in the United States. In fact, nearly 700,000 people die due to heart disease each year. Heart disease can strike at any age and in adults with varying BMIs and levels of activity.


What's The Link?

Gum disease is an infection of your gum tissue. Due to it being an infection, if you leave it untreated, that infection can spread- not only to other areas of gum tissue in your mouth but also to other areas of your body. One of the areas particularly at risk for infection is your heart. A gum infection can travel to your heart valves and blood vessels and infect them. This infection elevates the risk of both a heart attack and a stroke.

The best way to combat gum infections is to treat your gum disease. You need to go to a dentist twice a year to have your teeth and gums cleaned. If you have periodontal disease, you may need to get your teeth cleaned once a quarter. Keeping your teeth and gums healthy is the best way to combat a gum infection moving into your heart- and to keep your overall health in good shape.