Why Do Abscesses In Your Mouth Hurt So Much?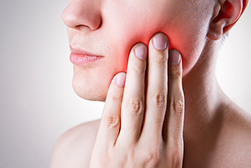 There are all different kinds of pain. You have the kind of pain that occurs suddenly, such as when you bang your toe on the living room couch for the millionth time. There's also pain that can last for what seems like a lifetime- just ask any mother how long childbirth seems to last. Many people say that mouth pain is the worst kind of pain, because when your mouth hurts, everything hurts. One of the worst kinds of mouth pain occurs when you have an abscess. We have some thoughts about why abscesses in your mouth can cause you terrible pain, and how to get rid of them.


What Is A Mouth Abscess?

Mouth abscesses can be very serious. They occur when you have an infection, usually along the gum line. Abscesses usually form because your tooth has been infected by bacteria, which has caused a cavity. Cavities are holes in your tooth that the bacteria make. These holes in your teeth start out small but grow larger over time unless they are filled and treated. Once a cavity is treated, the bacteria cannot continue to make the hole in your tooth bigger. However, if you don't get a cavity treated, it continues to grow. Eventually, the cavity will infect the pulp of your tooth, and work its way down to the nerve.


The Pain

The pain from a mouth abscess comes when the infection reaches your nerve. The infection of your tooth has gotten so bad, it has created a pocket of pus under your gumline. The pus pocket at the nerve ending is what causes such severe pain. You may also have other symptoms, such as a horrible taste in your mouth. In some cases, the pain from an abscessed tooth can be nearly unbearable.

The good news is that abscessed teeth can be treated. You will start to feel better almost immediately. If you are in pain from an abscessed tooth, why not give us a call today, and let us get your pain taken care of?