How is Gum Disease Diagnosed?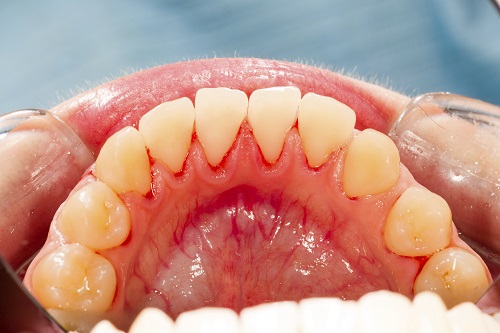 Gum disease is highly common in the United States, and can range in severity from a mild form called gingivitis to more advanced periodontitis. Gum disease can be prevented by practicing good oral hygiene, and gingivitis can even be reversed through diligent care before it progresses into periodontitis. Read on to learn about the symptoms of gum disease and how gum disease is diagnosed.


Symptoms of Gum Disease

Signs of gingivitis or early gum disease include gums that appear red or swollen, as well as bleeding gums while brushing or flossing. Gum disease can also cause persistent bad breath, visible tartar buildup, gum recession, increased tooth sensitivity, and pain with brushing or eating. If gingivitis is not treated, it can develop into advanced periodontitis, which is severe enough to cause permanent teeth to feel loose and eventually fall out.


Diagnosis

Any routine dental checkup will involve a thorough oral exam to look for signs of gum disease, but if you notice the onset of any of the above symptoms, you should definitely make an appointment with our office. At your appointment we will examine your gums for inflammation and infection, possibly take X-rays of your mouth, and use a probe to measure the pockets around your teeth. Pocket depth is usually between one and three millimeters for someone without gum disease, so a pocket depth of more than four millimeters may be an indicator of periodontitis. We will also review your medical history to discuss any possible risk factors for gum disease, such as diabetes, tobacco use, or the use of certain medications.


Treatment

Gum disease in its early stages can be reversed by following proper oral hygiene. If you are a smoker, quitting will also decrease the chances of your gum disease progressing into advanced periodontitis. Depending on the severity of the infection, we may also prescribe antibiotics or perform procedures like scaling and root planing. Advanced periodontitis cannot be reversed, but it can be treated with procedures like a gum, tissue, or bone graft. To learn more about gum disease diagnosis and treatment, call our office today.