Dental Implants or Dentures?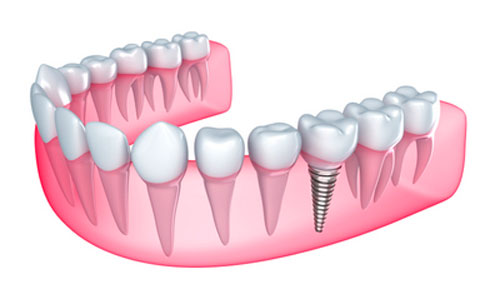 Missing teeth are not only a hindrance to your perfect smile, but they can also present serious dental problems that can affect your gums. When you have gaps due to missing teeth, your gum tissue can become affected, negatively affecting adjacent teeth in the process. The teeth near the gap can shit in the vacant space. This can cause severe issues, which can cause undue stress. To prevent this from happening, our dentists can offer effective treatment to safeguard the integrity of your gum tissue and oral health.

Dental implants and dentures are some of the treatment options available at our practice for missing or lost teeth. However, choosing between the two can present a headache for patients. Thankfully, our dentists are passionate and offer helpful advice which will help you to make an informed choice on which is the best solution for your case.


Dental Implants are Permanent While Denture are Removable

This is the basic difference between the two. Implants are screwed into your jaw tissue while dentures are placed and stuck on top of your gums. You are required to remove dentures every night before going to bed, and store them in water or a special denture gel overnight. This is not the case when it comes to implants, since they are designed in a way to mimic your natural teeth.


Maintenance of Implants and Dentures

When it comes to maintenance, you have to take care of your implants as you would your natural teeth. This means flossing and brushing every day. For dentures, you have to remove them and clean them using water or according to the dentist's guidelines.


Visit our Practice for Assistance

Our dentists can help with the process of choosing between dentures or implants. Call to book an appointment for effective personalized care.