Glossary of Terms Related to Periodontitis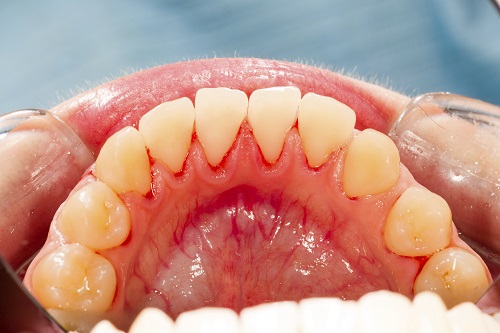 If you are like most people, the terms "periodontitis" and "gum disease" sound about the same. They are, after all, both related to teeth and gums.

However, there is a big difference between the two. Periodontitis is an advanced gum infection that can severely damage your teeth and gums if left untreated. In this blog, we will define key terms related to periodontitis to better understand this serious dental condition.


Gingivitis

It is a common and mild gum disease that only affects the gums. Gingivitis is usually caused by plaque, a sticky film of bacteria that forms on teeth. Plaque can harden into calculus (tartar). If gingivitis isn't treated, it can cause periodontitis. Some symptoms of gingivitis include swollen or puffy gums, red or purple gums, bleeding when brushing or flossing, and bad breath. If you have the signs and symptoms, see your dentist. Gingivitis is usually treated with professional teeth cleaning.


Recession

A recession is the loss of gum tissue along the tooth. It can expose the tooth's root and make it more susceptible to decay. A recession is caused by several factors, including brushing too hard, gum disease, smoking, and certain medications like steroid therapy. In addition to causing tooth sensitivity, recession can make your teeth look longer than they are. If you have gum recession, you may even be able to see the root of your tooth.


Bone Loss

Bone loss happens when the bone around the teeth is no longer supported. It can happen for several reasons, including periodontitis. Your dentist can tell if you have bone loss by doing an x-ray. They will check to see if the bone around your teeth has started to shrink.

Our dental clinic offers various services to help you achieve and maintain optimal oral health. We ensure to provide the best possible care by staying up-to-date with the latest technology and procedures.