Loose Teeth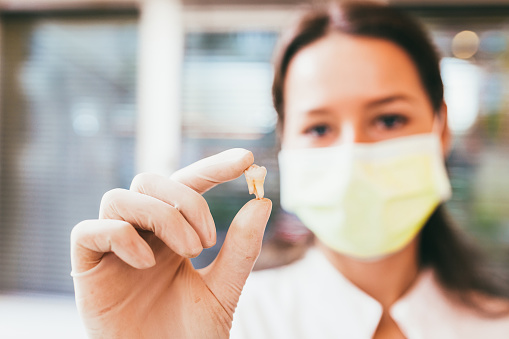 Your teeth have many important responsibilities. They are a key element in a beautiful smile. They help you to bite and chew a wide array of different foods. They enable proper speech. Healthy teeth are held securely in place and do not move around. However, in some instances the teeth can become loose. When this happens, several issues can arise. If you are suffering from loose teeth, Martin Periodontics can help.


What Causes Loose Teeth?

There are several different issues that can lead to loose teeth. These issues include:

| | |
| --- | --- |
| • | Periodontal disease. Periodontal disease is commonly thought to be a disease that only affects the gums. While it begins with the gums, bacteria that cause inflammation in your gums cause the tissue to pull away from the teeth. These bacteria are then able to fall below the gumline, where they can attack the periodontal ligaments and the jawbone. Over time, these structures weaken, causing the teeth to become loose. |
| • | Facial trauma. Facial trauma can impact the jawbone and the periodontal ligaments, loosening your teeth. |
| • | Bruxism. This is a condition in which you grind and clench your teeth. The excessive forces can stretch the periodontal ligaments, leading to loose, wobbly teeth. |
| • | Pregnancy hormones. Higher levels of progesterone and estrogen during pregnancy can cause the periodontal ligaments to become looser, weakening the stability of your teeth. This condition is generally just temporary, but it is important to maintain good oral hygiene and regular dental visits during pregnancy. |
| • | Osteoporosis. Osteoporosis is a condition that leads to loss of bone mass. As the density of your bone decreases, the stability of your teeth can become compromised. |
What are the Effects of Loose Teeth?

Loose teeth can lead to several issues:

| | |
| --- | --- |
| • | Alignment issues. Loose teeth can shift out of proper alignment. This can impact the appearance of your smile as well as lead to issues such as bruxism and temporomandibular joint disorder. |
| • | An increased risk of tooth damage. When your teeth are loose, bite forces may not be even. This can lead to areas of excessive pressure that can cause chips and fractures. |
| • | Tooth loss. Some conditions can cause loose teeth to become more unstable over time. This can eventually lead to tooth loss, which comes with its own set of complications. |
Can Loose Teeth be Treated?

Tooth mobility is never a good sign. It is possible to treat the issue however. First, we perform a thorough exam to determine the cause of your loose teeth. This includes a visual inspection of your mouth in addition to x-rays. Once we have determined the cause, we can then provide proper treatment. Common treatments for loose teeth include:

| | |
| --- | --- |
| • | Splinting. Sometimes loose teeth need to be held in place while the bone and periodontal ligaments heal around them. |
| • | Periodontal disease treatment. Treatments for periodontal disease include scaling and root planing, laser treatment, and osseous surgery. Treating periodontal disease allows the bone, periodontal ligaments, and your gums to begin healing, restoring stability. |
| • | Soft tissue and bone grafting. Soft tissue grafting helps to restore a healthy gumline following gum recession. A bone graft is performed to restore missing bone mass. Grafting restores your oral health and the stability of your teeth. |
| • | Extractions and replacement with dental implants. When tooth mobility is severe, your best option may be to extract the affected teeth and replace them with dental implants. |

If you are suffering with loose teeth, treatment is essential. For more information, and to schedule your consultation, call Martin Periodontics at (513) 445-4282 today.