Composite Fillings

Mason,OH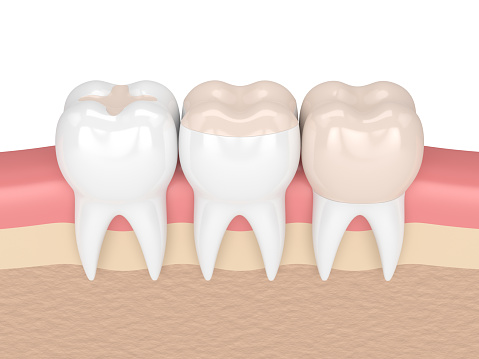 Cavities are an extremely common dental issue that affects millions of people. They form as a result of tooth decay. Tooth decay occurs when acids produced by plaque and bacteria sit too long on the surfaces of your teeth. These acids begin to erode the enamel, leading to weak spots. Without treatment, the weak spots continue to worsen, forming cavities. Over time, cavities continue to grow larger, compromising the strength and health of the affected tooth. At Martin Periodontics, we can provide treatment for cavities with composite fillings.


What are Composite Fillings?

Traditionally, cavities have been filled using amalgam fillings. These fillings, made up of a mixture of metals suspended in mercury, have been in use for over 150 years. Once cured, they are incredibly strong and can withstand a significant amount of bite force. Despite their strength, they do have several disadvantages. One of their biggest drawbacks is their color. Amalgam fillings are silver, making them stand out in your smile. Additionally, their metal and mercury content raises concerns with many patients.

Composite fillings were developed as an alternative to amalgam fillings. Composite fillings use a composite resin to treat cavities. Composite resin is a substance made up of fine glass, plastic, and other materials. It is white in color, which helps it to blend in perfectly with the surrounding tooth enamel. For teeth in the front of your mouth, composite fillings not only treat your cavities but also restore the appearance of your smile. Additionally, composite contains no metal and no mercury, making it ideal for patients who might be concerned about these materials.


Placing Your Composite Fillings

The process for placing a composite filling is fairly similar to placing an amalgam filling. It is a straightforward procedure that only requires a single visit and can generally be completed in about 30 minutes. First, we start by cleaning the tooth and drilling the decay away from the cavity. Depending on the location and the depth of the cavity, you may or may not require a local anesthetic. After the tooth has been cleaned, an acid etch is applied to the area to create a rough texture. This texture helps the composite material to more effectively bond with your tooth. The acid is washed away, and the tooth is dried. Next, the composite resin is placed inside the cavity. It is cured using specialized light. Finally, we polish the filling to a smooth finish, providing your tooth with immediate protection.


Composite Filling Benefits

Composite fillings provide several benefits.

| | |
| --- | --- |
| • | The material matches the color of your natural teeth, providing a seamless restoration of your smile while also restoring the health of your mouth. |
| • | Composite resin can withstand most normal daily use. |
| • | The material bonds with your tooth, rather than simply filling in the cavity. Because of this, less of your natural tooth structure needs to be removed. |
| • | There is no metal or mercury in composite fillings. |
Can I Prevent Cavities?

While cavities can be treated, it is important to take action to prevent them from forming in the first place. Cavity prevention starts at home. It is recommended that you brush your teeth twice a day and floss once a day. It is also important that you have regular cleanings and exams. Cleanings help to remove buildup from more difficult to reach places while exams allow us to spot early warning signs, providing you with effective treatment to prevent significant issues from occurring.

A composite filling protects a tooth affected by a cavity without the use of metals or mercury. It also restores the appearance of a visible tooth, restoring the quality of your smile. For more information about composite fillings, call Martin Periodontics today at (513) 445-4282.