Symptoms of Gum Disease

Mason, OH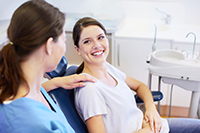 Gum disease, also known as periodontal disease, can have dangerous consequences. When the disease is left to spread in the mouth unchecked, it can result in swollen and receding gums, chronic bad breath, and even loss of teeth. Recognizing the warning signs of gum disease is critical to protecting your oral health. At Martin Periodontics we can help detect and treat gum disease.


Why Does Gum Disease Happen?

Gum disease occurs as a result of the accumulation of bacteria in your mouth, specifically in the pockets between your teeth and gums. This occurrence will start with relatively mild symptoms that will become progressively worse if left untreated. In the final stages of gum disease, tooth loss and a reduction in bone density of your jawbone occur.


What Are the Early Symptoms of Gum Disease?

While some of the early symptoms may easily be observed at home, they may have several causes and are not always an indicator of gum disease. Our dental team can check for other symptoms that are not as easily detected and appropriately diagnose your condition, whether it be gum disease or some other issue. This is done by checking the pockets between your teeth and gums with a specialized tool and measuring their depth.

An increase in the depth of these pockets is a significant indicator of gum disease. Mild increases in depth can be treated with non-invasive options, but pockets that have already increased significantly will require surgical intervention.


What Are the Common Symptoms of Gum Disease?
Sensitive and Bleeding Gums

One of the earliest signs of gum disease, as well as one of the easiest to spot, are gums that are swollen, red, and puffy. They will be tender and highly sensitive to touch, and when you brush them, they may bleed. Healthy gums should never bleed, so if you see red in the sink after you spit then it is time to give us a call. At this early stage, you may not even have gum disease, but rather a condition known as gingivitis. Gingivitis is often a precursor to gum disease with many of the same symptoms as the disease in its early stages. So, by catching the disease when it is still gingivitis you can treat the situation before it gets worse.


Receding gums can be hard to notice. Instead of paying attention to your gums, keep an eye on whether or not your teeth seem to be getting longer. The more your gums recede, the harder it is to get rid of the bacteria that infest these hard-to-reach places. If things get too bad, then only a professional cleaning will be able to reach and get rid of these bacteria.


Persistent Bad Breath

While bad breath is not always a sign of gum disease, the disease does cause a chronic odor that does not go away no matter what you do. If the underlying gum disease is not effectively treated, then no amount of mouthwash, brushing, or breath mints will successfully get rid of the bad breath. You may also experience a constant lingering bad taste, even if you have not recently eaten anything.


Loose Teeth

As gum disease gets worse, tartar will begin to erode your gums by creating pockets between the gums and the roots of your teeth. This loosens the teeth, and they may noticeably move when you brush or nudge them with your tongue. Spaces may develop between your teeth so that when your mouth is closed your teeth fit together differently.


Early detection is the key to treating so many different diseases in the body. Gum disease is no exception. There are different stages to the disease which include gingivitis, moderate periodontal disease, and advanced periodontal disease. Due to the fact the disease is not reversible or incurable once it progresses beyond the initial stage of gingivitis, it is imperative for early detection and proper assessment. Once it advances to either moderate or advanced stages, the disease has to be managed rather than treated.

The treatment is known as periodontal maintenance, which involves a professional cleaning every three months. This maintenance is a much deeper cleaning than what usually occurs during a professional dental exam and cleaning. It also includes root cleaning and scaling which involves the scraping of bacteria from the surfaces of the roots, so they remain healthy.


Can Gum Disease Be Reversed?

Now that you know how to spot gum disease, how do you treat it? If it is still in the early stages, then non-invasive cleaning methods can likely eradicate it. It all depends on how far the disease has advanced. The effects of gum disease can be overcome if treated in its early stages. Procedures such as root planing and scaling can be used to remove tartar and allow your tooth roots to reattach to your gums and reduce the size of the pockets between your teeth back to healthy levels.

If it has gotten worse, to the point that you have loose teeth, then methods such as surgery may be necessary. Moderate cases of gum disease can be reduced through pocket reduction surgery and a change in oral hygiene practices. Advanced stages of periodontal disease cannot be reversed, they can only be treated.


Think You Might Have Gum Disease?

If you think that you are showing some of the symptoms of gum disease or gingivitis, then it is time to see our professionals and you should schedule an appointment immediately. Your oral health depends on it. If left untreated, gum disease can end in the complete destruction of the gums and the loss of teeth. Treating gum disease is as easy as calling Martin Periodontics at (513) 445-4282.