The Dental Consequences of Periodontal Disease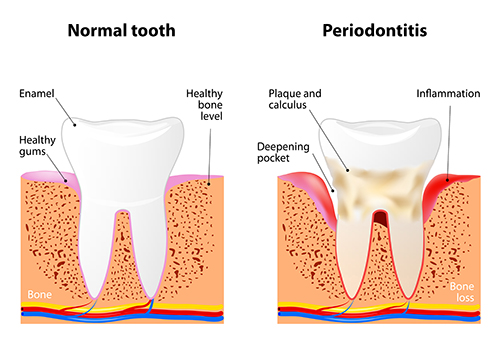 Periodontal disease, also called gum disease, is a serious, progressive oral health issue. It begins when plaque and bacteria are left to build up on the surfaces of your teeth. While natural, these substances irritate sensitive gum tissue. Without treatment, periodontal disease only continues to get worse, and can have several significant dental consequences. Martin Periodontics is here to help.


The first stage of periodontal disease is known as gingivitis. This stage often goes unnoticed because the earliest symptoms are often not noticeable. When plaque and bacteria buildup on your teeth, your sensitive gum tissue becomes irritated. They also trigger an immune response, which causes the gums to become inflamed. Gums that are red and swollen are the first indication that something is wrong.


Bleeding

Bleeding when you brush and floss is not normal. Healthy tissues do not bleed when you perform these tasks properly. Often, bleeding gums are thought to be the result of aggressive brushing or because you have flossed too vigorously. However, irritated, inflamed gums are generally a result of plaque bacteria, and can easily bleed. Bleeding gums also allow bacteria to travel into your bloodstream.


Plaque is a sticky substance that accumulates on your teeth. It contains bacteria, which can contribute to bad breath. Additionally, as your gums swell, pockets begin to form. Bacteria and other debris can fall into these pockets and become trapped. Because of this, no matter how much you brush and floss, or how much gum you chew, your breath just does not improve.


When bacteria fall into the periodontal pockets, they continue to attack your gums from the inside. This causes further irritation and inflammation, which causes your tissue to continue pulling away from your teeth. This leads to the pockets becoming deeper and deeper. Tissue that has pulled away from your teeth eventually begins to die off, causing your gumline to recede. Your teeth begin to appear longer. Additionally, gum recession can increase your risk for tooth decay and gum disease. It can also lead to tooth sensitivity as the roots of your teeth become exposed.


Bone Loss in Your Jaw

In addition to attacking your gums, bacteria that invades below your gums will eventually begin to attack your jawbone. Over time, the bone begins to grow weak, leading to bone loss. When this happens, your bone begins to change shape, which can lead to loosening of teeth and alteration of your bite. When your bite is altered, it not only affects the appearance of your smile, but it can also lead to bruxism, uneven tooth wear, and problems with your temporomandibular joint.


Tooth Loss

When bacteria attack your jawbone, they also attack your periodontal ligaments. As these structures weaken, your teeth lose support, causing your teeth to become loose. When too much support is lost, your teeth may even fall out. In some instances, they may need to be extracted. Missing teeth affect your smile, your abilities to eat and speak, and alter your bite. Tooth loss also causes a loss of bone stimulation, which further contributes to bone loss.

Treating periodontal disease is essential for stopping its progression in its tracks and restoring the health of your mouth. Call Martin Periodontics today at (513) 445-4282 for more information and to schedule your consultation.