Having Gum Disease Can Leave Your Whole Body Feeling Sick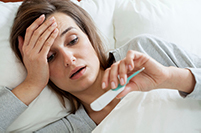 Periodontal disease, otherwise known as gum disease, can cause symptoms in more than just your mouth. The most common symptoms of gum disease may be inflamed or bleeding gums, but as the disease gets more severe, so do the symptoms associated. Gum disease is common, and it is estimated that a little less than half of all adults over the age of 30 have periodontal disease. However, if periodontal disease is ignored, it can lead to more serious health concerns related to the entire body.


Symptoms of Periodontal Disease

Periodontal disease is caused by uncontrolled bacteria and the toxins produced by that bacterium. If it is not taken care of, plaque can spread below the gum line and break down and destroy the tissues and bone that support teeth. As the bacteria and toxins continue to spread, if left untreated it can cause some symptoms to spread to entire body. The most common symptoms of periodontal disease are red, swollen, tender, or bleeding gums. Other symptoms include receding gums, tooth sensitivity, loose teeth, painful chewing, and bad breath. Gum disease can increase the risk of other serious issues, including stroke, diabetes, and heart disease. One the toxins spread to the bone of the mouth; they can continue to spread to other bones in the body.


Preventing Gum Disease

There are many ways to prevent gum disease from developing or treating prominent gum disease. Daily oral hygiene is important to make sure that unwanted plaque and tarter do not build up around the gum line or other areas. It is also important to see us for regular cleanings and check-ups so that any abnormalities can be identified.

If you have any questions related to gum disease, or the other symptoms associated with gum disease, please give our office a call. Our periodontists will help you identify the appropriate treatment to regain a healthy mouth and smile.