Mouth-Body Connection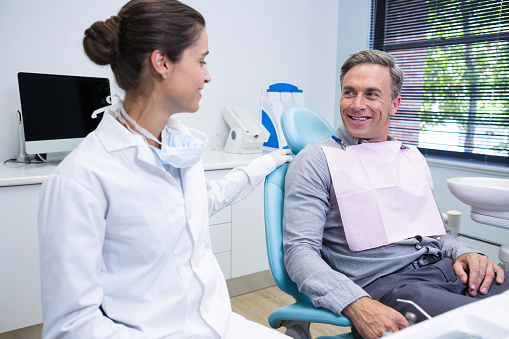 Periodontal disease is an oral health issue that affects your gums, your jawbone, and your teeth. Untreated, it can result in gum recession, loose teeth, and even tooth loss. But did you know that periodontal disease can also impact your whole-body health as well? Taking care of your mouth is essential for preventing issues like periodontal disease, cavities, and even oral cancer. Good oral hygiene practices and frequent dental screenings are crucial for maintaining the health of your entire body as well. At Martin Periodontics, we are here to help.


Respiratory Issues

When you have periodontal disease, your mouth is filled with harmful bacteria. If you breathe through your mouth, the air passes over your oral tissues, where the bacteria reside. As you breathe in, you can actually inhale some of these bacteria right into your lungs. The lungs are a warm, moist environment perfect for fostering bacterial growth. As bacteria begin to multiply in the lungs, they can lead to issues such as pneumonia. If you already have lung issues, such as asthma or COPD, the inhaled bacteria can actually exacerbate the symptoms of these issues and cause them to become worse.


In advanced stages of periodontal disease or infections in your teeth, bacteria can actually enter into your bloodstream. When this happens, they are able to travel throughout your body. The bacteria trigger an inflammatory response, which causes swelling and tissue damage. In patients susceptible to heart disease or who already have heart conditions, this can lead to restriction of your blood flow and clogged arteries (known as atherosclerosis). Several scientific studies have shown the presence of periodontal and oral bacteria within blood vessel linings and atherosclerotic plaques . These conditions put patients at risk for heart attacks, strokes, or other cardiac events. Bacteria that gets into the heart can also lead to infections in the inner lining, or endocarditis, which can be extremely dangerous.


Diabetes

Several studies have found links between periodontal disease and diabetes. When you have periodontal disease, it can actually increase your risk for developing diabetes, as periodontal disease can interfere with and make it harder for you to control your blood sugar levels. At the same time, those with diabetes are at a much greater risk of developing periodontal disease. This is because dysregulated blood sugar levels can lead to damage of your gum tissues at a microscopic level, and depression of your immune system which allows for periodontal bacteria to run rampant. If you have diabetes and advanced gum disease, your blood sugar levels can become dangerously high, which can contribute to severe complications.


Pregnancy Complications

Hormonal changes, such as those that come with pregnancy, can increase the risk of developing gingivitis and periodontal disease. This is due to the fact that the change in hormones levels can influence bacterial growth and interfere with the ability of the body to fight off infections. Some studies indicate a potential link between gum disease pregnancy-related complications, such as preterm birth and low birth weight. To ensure a healthy and safe pregnancy, it is important to maintain thorough oral hygiene and keep up with regular dental visits and cleanings. When oral health issues arise, treatment is necessary for restoring the health of your mouth as well as protecting the health of your whole body.

Learn more about the Medical Consequences of Periodontal Disease

When oral health issues arise, treatment is necessary for restoring the health of your mouth as well as protecting the health of your whole body. For more information, or to schedule your appointment, call Martin Periodontics today at (513) 445-4282.