What Is Periodontal Disease?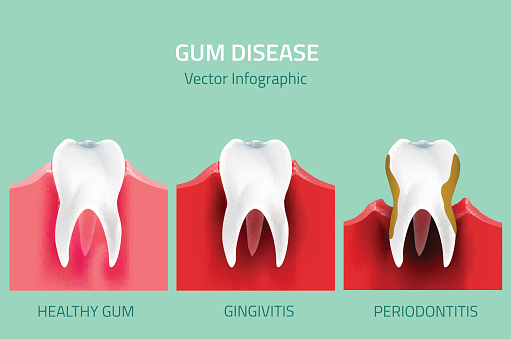 Periodontal disease is more commonly known as gum disease. It is an oral health condition that affects your gums, your jawbone, and your teeth. Advanced stages can also have a significant impact on your whole-body health. It starts when plaque and bacteria build up on the surfaces of your teeth. These bacteria irritate sensitive gum tissues, leading to inflammation. As it progresses, inflammation and bacterial activity can lead to tissue and bone damage, and the formation of deep gum pockets. Because deep gum pockets provide a perfect, difficult-to-reach environment for bacteria to flourish and continue damaging your bone and tissue, your teeth may eventually become loose and even fall out if the disease is not treated.

Periodontal disease is sometimes hard to recognize because pain, bleeding, and swelling are not always present, but the disease deteriorates the gums and bone regardless of the symptoms demonstrated. Unfortunately, this disease damages the teeth, gum, and jawbone of more than 80% of Americans by age 45.


How Do I Get Periodontal Disease?

One of the most common causes of periodontal disease is poor oral hygiene. Regular brushing and flossing, as well as regular cleanings and exams, are essential for removing plaque and bacteria from your teeth. Limiting the amount of plaque and bacteria helps to prevent irritation and inflammation. When you do not brush and floss regularly, plaque and bacteria are able to accumulate. Other issues that can lead to periodontal disease include:

| | |
| --- | --- |
| • | Misalignment of your teeth. When your teeth are not aligned properly, they are more difficult to clean thoroughly. Areas that are not properly cleaned allow for plaque and bacteria buildup. |
| • | Tobacco use. Cigarettes and other tobacco products decrease the oxygen levels and blood flow in your gums, which creates an ideal environment for periodontal bacteria to grow and flourish. Limited blood flow can also make it more difficult for your immune system cells to enter your oral tissues and fight off bacterial infections, like gum disease. |
| • | Dry mouth. Dry mouth can be caused by a number of different factors, including alcohol use, certain medications, and some medical conditions. It is a condition that leads to poor saliva production, leaving your mouth feeling dry and sticky. This type of environment is perfect for fostering bacterial growth. |
Symptoms of Periodontal Disease

There are several symptoms that are associated with periodontal disease. The exact symptoms you experience depend upon how advanced your condition is. Symptoms include:

Sometimes, the only way to detect periodontal disease is through a periodontal evaluation. A periodontal evaluation may be especially important in the following situations:

| | |
| --- | --- |
| • | If you have a family member with periodontal disease. |
| • | If you have heart disease, diabetes, respiratory disease, or osteoporosis. |
| • | If you feel that your teeth are too short or that your smile is too "gummy". |
| • | If you are not satisfied with your current tooth replacement option, such as bridge or dentures, and may be interested in dental implants. |
| • | If you have a sore or mouth irritation that does not get better within two weeks. |
Treatment Options for Periodontal Disease

The exact treatment you receive depends upon how advanced your periodontal disease is. Martin Periodontics provides a variety of surgical and non-surgical treatment services. We pride ourselves on our conservative treatment recommendations and always limit the use of surgery to situations when it is absolutely necessary. Often, the early stages of periodontal disease are best treated with non-surgical periodontal therapy. Even in severe cases, non-surgical periodontal therapy often precedes surgical therapy. This is done to improve the overall tissue quality prior to surgery and also to help limit the areas requiring surgery.

Some treatments we offer include:

If you notice any symptoms of periodontal disease, it is important that you get treatment right away. For more information, and to schedule your appointment, call Martin Periodontics today at (513) 445-4282.